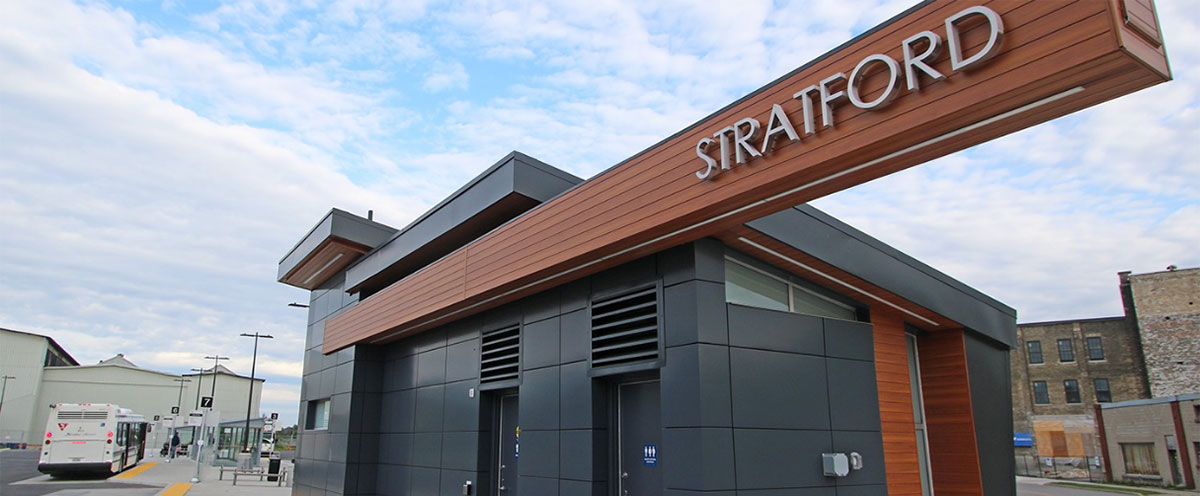 Stratford is well connected
Stratford offers several transportation options and is well connected to major North American markets through an established network of regional and provincial highways. In this section of our website, you can learn about our transportation network and available methods of travel.
Highways
Access to major transportation arteries allow local companies to thrive in a just-in-time environment
Highway 401 offers express, toll-free delivery of products throughout southern Ontario, with links into the northeastern and midwest United States
Highway 7/8 is a four-lane connection to Highway 401 and the easterly markets of Kitchener-Waterloo-Cambridge
Highway 7 connects Stratford to London, Highway 402 and locations to the west
Provincial Highways 8 to Goderich and 59 to Woodstock, plus County Roads 113 to London also service Stratford
Bus
Stratford Transit provides a convenient and affordable alternative to driving within the city. Visit the Stratford Community website for transit times and fees.
Air
Visit Stratford Municipal Airport for details on local and international airports such as Toronto and London.
Rail
Passenger rail service is delivered by VIA Rail. Visit rail in the Live Here section of our website for full information.
Major Ports
Stratford is located within a 1.5-hour drive of four major ports, accessible by truck and rail:
Port of Goderich

P.O. Box 415
Goderich, Ontario
N7A 4C6

519-524-3234

Provides seaway depth berthing and modern docking facilities on Lake Ontario.

Port of Port Stanley

519-782-3054 (dockside - seasonal)

(harbour master: Scott Payne)

226-234-8830 (harbour master's cell)

The only deep-water port on the north shore of Lake Erie.

Port of Toronto

60 Harbour Street
Toronto, Ontario
M5J 1B7

416-863-2000

https://www.portstoronto.com/home.aspx

A large international trading centre on Lake Ontario offering full service container and cargo handling facilities.

Port of Hamilton

605 James St. North, 6th Floor
Hamilton, Ontario
L8L 1K1

905-525-4330

1-800-263-2131

A full service port facility on Lake Ontario.