COVID-19: Impact to City Facilities and Services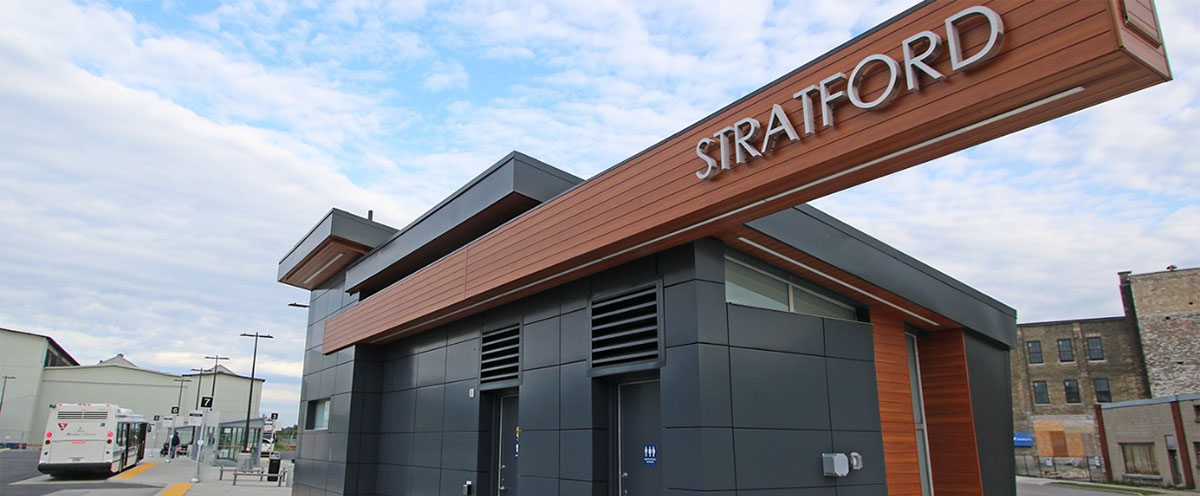 As part of our ongoing efforts to slow the spread of COVID-19, and in keeping with the Province of Ontario's declaration of a State of Emergency, the City of Stratford has closed its administrative buildings to the public, until further notice. The City will continue to provide services to the community, including Social Services to our clients in Stratford, Perth County and St. Marys.
List of Services Being Provided
Cemetery Operations
Cemetery operations continue to be provided. For questions please call 519-271-0250 Ext. 244.
Parks
The parks system continues to be maintained, but all outdoor recreational amenities are closed. That includes all playgrounds, sports fields, basketball and tennis courts, off-leash dog parks, benches, all-wheels skate park, picnic areas, outdoor community gardens, park shelters, outdoor exercise equipment, condo parks and gardens. Green spaces in parks, trails and river areas remain open for walkthrough access, but individuals must maintain a safe distance of at least two metres apart from others while in these areas.
Transit
Stratford Transit will continue to operate and we are directing riders to enter and exit only through the back door of the buses. Those with mobility issues can still enter from the front door, where the ramp/kneeling options are available, but we ask those individuals to practice social distancing from our drivers.
Payment is not required to ride, and bypassing the fare box will help to reinforce social distancing on the buses for our drivers and members of the public. This will continue until the end of the day August 30, 2020, after which we will re-assess the situation.
Property Taxes
The City will be waiving penalty and interest related to the April 9 property tax installment due-date and will be stopping all progressive collection activities until August 30, 2020. This will give residents and businesses a chance to make payments when they can over the next 4 months. The City will review this on an ongoing basis and continue to be responsive to the needs of our community. We ask residents that have the financial means to make their tax payments by April 9 to do so.
Statements can be requested by emailing taxinfo@stratford.ca.
Pre-authorized payment for property taxes can be submitted to: www.stratford.ca/preauthorized.
Licensing
Pet, business and lottery licencing will continue. Applications can be submitted via email Clerk's Office or completed over the telephone 519-271-0250 Ext. 237.
Payments by credit card can also be made over the phone or a cheque can be mailed to the Clerk's Office, City Hall, P.O. Box 818, 1 Wellington Street, Stratford, ON N5A 6W1 or placed in the drop box at the back of City Hall.
Parking
Free parking will be provided until May 31, 2020 or the commencement of the Festival Theatre season. All other provisions of the City's Traffic and Parking by-law remain in force and effect.
Payments for parking tickets and permits can be made by credit card over the telephone at 519-271-0250 Ext. 237. Cheques can also be mailed to the Clerk's Office, City Hall, P.O. Box 818, 1 Wellington Street, Stratford, ON N5A 6W1 or placed in the drop box at the back of City Hall.
Requests for a parking ticket review can be completed over the telephone or through the City's website at: https://forms.stratford.ca/IT-Services/Clerks-Corporate-Services/Request-for-Review
Development Services (Planning)
The following services are being provided.
Acceptance of planning applications.*
Acceptance of applications to the Committee of Adjustment*
Letters of Conformity
*Please note that public meetings or hearings are not being scheduled at this time.
Development Services (Building & By-law Enforcement)
The following services are continuing to be provided:
Applications for permits and licenses
Review and issuance of permit and licenses
Inspections for permits on a case by case basis
For unsafe buildings requiring immediate attention, call 519-271-0250 Ext. 345.
For unsafe pool fences, call 519-271-0250 Ext. 345.
Roads and Streets
The following activities related to roads and streets are continuing:
Sanding
Pavement patching
Sidewalk Maintenance
Stormwater Management
Traffic Control
Winter Control
To report an issue please call 519-271-0250 Ext. 259 or use our Pingstreet App.
Waste and Recycling Collection
There is no change to curbside garbage and recyling collection. Landfill operations will be closed to the public starting Saturday, March 21. The Landfill will still be open to commercial customers and the curbside collection contractor from Monday to Friday during normal working hours.
Bag tags can be purchased at the following locations:
East End Variety, 231 Douro Street
Festival Variety, 555 Downie Street
Esso, 501 Ontario Sreet
Mornington Variety, 231 Mornington Street
Sobey's, 581 Huron Street
7-Eleven, 327 Erie Street
Video 99 and Convenience, 332 Erie Street
Zehrs, 865 Ontario Street
Canadian Tire Gas Bar, 1101 Ontario Street
Shell Station, 405 Huron Street
Giant Tiger, 477 Huron Street
Joe's Variety, 760 Ontario Street
Stratford Variety, 542 Downie Street
Stratford Mini Mart/GoCo, 666 Ontario Street
Ultramar, 269 Erie Street
Green Bin collection is set to begin the week of April 6, 2020.
Water Operations, Wastewater Treatment and Sewers
The City will be waiving penalties, interest, late payment charges and other fees related to water and sewer billing and will be suspending all progressive collection activities until August 30, 2020. In addition, water meter disconnections will be suspended until August 30, 2020. The transfer of overdue water accounts to the property tax account will also be suspended to assist landlords.
Emergency repairs and ongoing required operations will continue. This includes operations around water quality, spills, floods, and storm response, along with emergency water shutoff/repair and sewer lateral services.
To report:
a water emergency during business hours, please call 519-271-0250 Ext. 222. For after-hours please call 519-271-4700.
a wastewater emergency during business hours please call 519-271-0250 Ext. 222. For after-hours please call 519-271-0250 Ext. 259.
Emergency Services
Essential and emergency services will continue to be provided.
Fire Services
If you are experiencing an emergency, please call 9-1-1. Fire services will be responding to all emergency calls.
If your call is not an emergency, please call 519-271-3212 or email Fire Dispatch.

All fire stations will be closed to the public.
Airport
The airport is open but the terminal is closed to the public.
Questions about the airport can be directed to the Operations Manager, Andy Woodham, at (519) 272-0933.
Homelessness Prevention
Emergency Housing will continue to be provided to clients if they are eligible for services.
The limit of emergency nights in motel stays will be waived for homeless persons who require emergency accommodation for self-isolation.
Housing Services
All maintenance work orders will be prioritized to focus on essential services (e.g. plumbing, electrical, unit repairs required to meet Ontario Building Code, Fire Code, security, etc.).
Should a rent geared to income tenant experience a loss of income during this period, they should contact our office at 519-271-3773 Ext. 200.
No cash or debit options are available at this time. Rent will only be acceptable by pre-authorized payments (excluding Britannia), cheque or money order. Cheques and money orders can be submitted in the drop boxes at 82 Erie St., Stratford or 330 Wallace St., Listowel or sent by mail.
Ontario Works
All appointments will be completed over the telephone, 519-271-3773 Ext. 200, with signatures on the form required at a later date. A risk-based approach will be utilized for completing these intakes, as documents can be provided after the grant date unless there is clear evidence that the client may be ineligible due to excess earnings or assets.
Clients may submit documents via the drop boxes at the following locations:
City Hall Annex - 82 Erie St., Stratford
North Perth Municipal Office – 330 Wallace Ave. N., Listowel
Questions about Services
For questions about services being provided, please contact the City departments:
City Hall (general line) 519-271-0250
Building and Planning 519-271-0250 Ext. 345
CAO's Office 519-271-0250 Ext. 267
Clerk's Office/Parking 519-271-0250 Ext. 237
Engineering/Public Works 519-271-0250 Ext. 222
Fire Department 519-271-3212
Human Resources 519-271-0250 Ext. 278 or 336
Mayor's Office 519-271-0250 Ext. 236
Parks/Recreation 519-271-0250 Ext. 245
Cemetery 519-271-0250 Ext. 244
Police Department 519-271-4141
Social Services 519-271-3773 Ext. 200
Tax and Finance Division 519-271-0250 Ext. 211
Transit 519-271-0250 Ext. 264
Questions can also be submitted by email to the Clerk's office.

Facilities
Facilities that remain OPEN to the public
Exterior washrooms at City Hall
Facilities that are CLOSED to the public
City Hall
City Hall Annex
Cemetery Office
Stratford Landfill (remains open for curbside collection contractors and commercial customers only)
Stratford Municipal Airport Office
Stratford Fire Hall Offices
Festival Hydro
Stratford Tourism Alliance (Visit Stratford)
Invest Stratford
Stratford Perth Centre for Business
Stratford Public Library
All daycares and camps, including:

Anne Hathaway Daycare
March Break Daycamps

All recreation facilities, including:

Stratford Rotary Complex (including arenas, walking track, community halls and meeting rooms);
Burnside Agriplex;
Dufferin Arena;
Allman Arena
Playgrounds, all-wheels skatepark
Stratford Public Library
The Stratford Public Library building is closed to the public, but there are a number of services that continue to be offered, including new card registrations, card renewals, and email reference service at askspl@pcin.on.ca.

Digital collections continue to be offered including access to thousands of downloadable ebooks and audiobooks, streaming videos, online magazines and research magazines. Find these resources on the library website.

No late fees will occur during the library closure and customers are requested to keep checked out materials with them until the library reopens.
Meetings, Programs and Events
Meetings, programs and events that have been CANCELLED until further notice
Committee Meetings;
Sub-committee meetings;
Committee of the Whole In-camera Sessions;
Advisory Committee meetings;
Public meetings, open houses, and public consultations (including Municipal Accommodation Tax);
Stratford Lakeside Active Adults Association (SLAAA) programming;
Swan Parade (April 5);
Dairy XPO;
Invest Stratford International Women's Day event;
Farmers Market;
Stratfords of the World Reunion, Ontario (postponed to 2021).