Posted on Wednesday, July 01, 2020 08:56 AM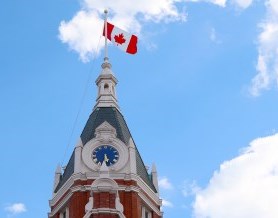 Canada Day Messages
On the occasion of Canada's 153rd birthday, here are video greetings and Canada Day messages from The Honourable Elizabeth Dowdeswell, Lieutenant Governor of Ontario, as well as Perth-Wellington MP John Nater, MPP Randy Pettapiece and Stratford Mayor Dan Mathieson.
The Honourable Elizabeth Dowdeswell, Lieutenant Governor of Ontario
Canada Day Message for Stratford
Posted on Monday, April 06, 2020 04:36 PM
Stratford – For many people, the COVID-19 pandemic has created feelings of stress, anxiety, uncertainty and fear, and the City of Stratford would like to highlight some of the mental health supports available to our community.
The City of Stratford Social Services Department works in partnership with Family Services Perth-Huron to make a variety of counselling services available to its clients, including support for mental health and wellness. Information about those services is available at http://familyservicesperth-huron.ca/
For...
Posted on Friday, April 03, 2020 04:35 PM
The City of Stratford would like to acknowledge a generous donation of potentially life-saving equipment to help local first responders and front-line workers in the battle against COVID-19.
Several thousand surgical face masks, KN-95 respirator masks and safety glasses arrived in Stratford earlier this week, and will be shared by the Stratford Police Service, the Stratford Fire Department, and other organizations in Stratford and Perth County in need of personal protective equipment (PPE).
The masks...
Posted on Thursday, March 26, 2020 09:30 AM
To reinforce the serious nature of the COVID-19 pandemic and the potential threat it poses to the community, Mayor Dan Mathieson has declared a State of Emergency for the City of Stratford.
"This declaration recognizes that the health, safety and welfare of Stratford residents is our top priority," said Mayor Mathieson, "and we want to ensure that we can dedicate all available resources to protecting ourselves against this virus."
The declaration of a State of Emergency is available to municipalities...
Posted on Monday, April 26, 2021 03:50 PM
The City of Stratford has selected Taylor Crinklaw as its new Director of Infrastructure and Development Services. He begins in that role Monday, April 26.
Mr. Crinklaw was most recently the Director of Public Works for the City of Woodstock. He has previous experience with the City of Stratford's Infrastructure and Development Services Department, having served as Project Engineer from 2015 to 2019.
He is a professional engineer (P. Eng), with a Master of Science degree in Environmental Engineering....