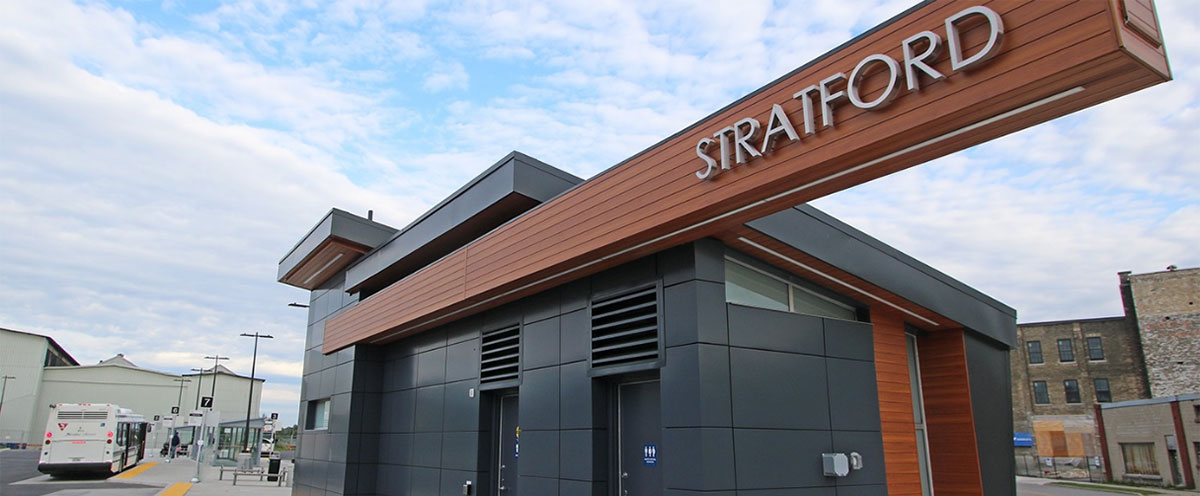 Construction on the new apartment building at 230 Britannia Street is complete, and tenants have moved in.
The building is currently at full occupancy, and we are not accepting applications at this time as a waitlist is not being maintained for 230 Britannia Street.
Should a unit become available, we will advertise and accept applications at that time.
Questions asked and answered at July 2 open house:
Landscaping – who will maintain outside the fenced area?
The fencing is temporary and will be removed when construction is complete. The landscaping will be maintained by the City of Stratford or one of our contractors.
Will we consider grandfathering people with more than 2 pets as long as they

sign an agreement agreeing to take care of the pets and property?
The City recognizes the important social and recreational benefits that pets can provide tenants. Pets will be permitted in the units in accordance with the Residential Tenancies Act. Landlords, however, do have the ability to establish pet policies that limit the amount of pets per unit. We will establish a pet policy that is in keeping with best practices of pet policies from other municipally-owned housing units.
Is there carpeting?
There is no carpet in the units, however there is carpet in the corridors.
Do all of the windows open?
Yes all of the windows open.
Will there be a community garden? Is this something we would consider?
At this time, there are no plans in place to establish a community garden. This may be considered in future.
Is hydro for scooter plug-ins included?
Yes, this is included in the buildings operating costs, with no additional cost to tenants.
Are there any 2-bedroom accessible units?
Both of the AODA units are one-bedroom units.
Will there be any security cameras?
Yes, security cameras are currently being installed in the common areas of the buildings as well as the parking lot.
How will the random selection process work? Will it be video-taped? Will there be oversight?
Each complete and eligible application will be numbered with a unique identifier, and entered into a computer application that will do the random selection. There will be documented oversight.
Will it be a secured entry building?
Yes, each resident will be provided with a swipe card for the front entrance and need to buzz in their guests.
Do you require a landline to allow guests entry?
Tenants will not be required to have a landline.
Have any of the units been spoken for yet?
No, not yet. When eligible households accept their offers, they will be invited to the City's offices for a lease signing appointment, and can choose their units at that time on a first-come, first-serve basis.
Is there a curfew?
No. Residents will be provided with swipe card for the entrance as well as keys to their individual units. Tenants can come and go as they please.
Are you allowed to smoke outside?
Yes, but 9 metres or 30 ft. away from the building.
Will it be a one-year lease term?
Yes, we will be using the Ontario standard lease agreement, which is one-year term (12 months). If tenants choose to stay past the one-year term, then the lease will renew on a month-to-month basis. If tenants choose to leave, then they would need to give us 60 days' notice to vacate as per the Residential Tenancies Act.
Is there a community space?
No, there is no common space/lounge designed specifically for congregation purposes located in the building.
Are there cabinets above in kitchen?
Yes in most units (with exception of the AODA units)
Who does maintenance?
Tenants are responsible for cleaning their own units. Lawn maintenance and snow removal will be taken care of by the City. A cleaner will be hired/contracted to look after the common areas in the building. Maintenance will be provided in the same way as it is for Perth and Stratford Housing Corporation, where tenants can call in maintenance requests and will have access to an after-hours service.
Are smoke detectors hard wired with battery backup?
Yes, all smoke detectors will be hard wired with battery backup.
Will there be an onsite superintendent?
No, but we are exploring having a key tenant on site.
Will tenants be advised of snow removal?
Yes, when parking lot needs to be plowed a notice will go out to all tenants with some advance notice.
Is there storage room onsite or in each unit?
No, there is no specific storage space for the units, other than standard closets in the units.
Is there an electrical panel in each unit?
Yes, each unit is equipped with its own electrical panel.
How are the units heated? Is the source gas or electric?
Units are heated with a PTAC (Packaged Terminal Air Conditioner) unit. The fan coil is operated by hydro. The heat source is natural gas heating hydronic (water boilers) system.
Additional questions that we promised to follow up on:
Floor insulation -- What kind is being used so that it is not too cold in the winter?
Under the whole slab on grade is 2" of rigid insulation.
Sound barrier – is there one between floors? And if so what is being used?
The second floor assembly provides an STC (Sound Transmission Class) rating of 57. The Building Code requires STC 55 between all suites. In order to achieve this we have provided a concrete topping, plywood sheathing, wood floor joists, resilient metal channels, and 1 layer of gypsum board. This total assembly achieves the STC 57. No insulation in the cavity is required in order to achieve STC 57.
Ceilings -- How high are they?
In suites they are 8'-6" typically, bulkheads and washroom ceilings will be lower around 7'-6".
Garbage and recycling – will there be garbage shoots? Is there a garbage room? Will there be a dumpster onsite? Will recycling bins be in garbage room or outdoors? If there is curbside pick-up, how often will it be?
There is no internal garbage room or chutes. There are 3 deep well garbage containers outside of the main entrance (Moloks).
Toilets – what is the height? Are they low flush?
Toilets are high efficiency ultra-low consumption, which use 20% less water. Toilet seat in typical units are 15" above finished floor. Toilet seat in AODA washrooms are 16 1/2" above finished floor.
Will the property be fenced?
No
Is the water in the building being treated (i.e. is there a water softener)? If so, is it centralized or in each unit?
Water softener and water heaters are in central utility room, not in the suites.
Is there a hot water heater tank in each individual unit? If so it is electric or gas?
The hot water tank is gas, and is located in central utility room.
Is there a storage cabinet above the sink in the bathroom?
There is only a cabinet below the sink. The mirror is flush mounted. There is no medicine cabinet.
The AODA washrooms do not have a cabinet below the sink as the sinks are wall mounted with the required clearances below.
Will there be a transit stop? If so, where?
Yes, a bus stop with a shelter has been installed on Britannia Street, near the south end of the building, between Briarhill and Glastonbury Dr.
---
Proposed Britannia Street Affordable Housing Project
At its April 24, 2017 meeting Stratford City approved in principle a proposed plan to build 55 new affordable housing units on a hectare of City-owned land adjacent to Britannia Street, at the former Fairgrounds property.
A public open house was held Thursday October 19, 2017, to provide more information about the proposed development, and to give the community an opportunity to provide input on the project that will help to guide Council's decision-making process.
The open house at the Stratford Rotary Complex Community Hall included a brief presentation by staff and the housing development consultant, followed by a question-and-answer period. Architectural designs, including renderings, colour boards and samples, were displayed.
Animation of Britannia Street Housing Project
Britannia Street Housing Project - Building Entrance
Brittania Street Housing Project - Street Frontage
For background, here is the management report from April 10, 2017 outlining the project:
To:

Infrastructure, Transportation and Safety Committee

From:

Carole Desmeules, Director of Social Services CEO, Perth & Stratford Housing Corporation

Ed Dujlovic, Director of Infrastructure and Development Services André Morin, Director of Corporate Services

Report#:

ITS17-019

Attachments:

City of Stratford - Housing Division

New Affordable Housing Business Plan Summary Tim Welch Consulting, February 2017
---
Title: Proposed development of affordable housing units on the former Fairground lands. 10-2017 Apr 20 Council Fairground Lands Report FINAL
Objective: To provide information and obtain approval from Council on the proposed business plan to build 55 new affordable housing units on 2.47 acres or one hectare from the former Fairground Lands.
Background: This is a subsequent report to the "Proposed Development in Fairground Lands" Management report dated April 10, 2017. In February 2017, Social Services staff contracted Tim Welch Consulting Inc. to review the Stratford Fairground Lands and to provide a business plan to develop new affordable housing utilizing funds provided by the Federal and Provincial government as part of the Investment in Affordable Housing Program (IAH) and Social Infrastructure Fund (SIF).
Highlights from the proposed Business Plan are identified below:
Summary:
The proposed project would have two phases:
Phase 1 creating 35 units, with construction beginning in early 2018; and
Phase 2 creating 20 units with construction beginning in 2020.
Fairground Lands Retained:
Fairground Lands Retained:
The proposed business plan identifies retaining a total of the 2.47 acres or one hectare. For which 1.8 acres or 0.73 hectares land would be used for the development of Phase 1 and 2 for a total of 55 affordable units with an additional 0.67 acres or 0.27 hectare dedicated towards green space/park land common area.
Public Consultation:
Public Consultation:
The project would be designed to blend in with the streets scape of the neighbourhood and public consultation would take place to ensure community feedback and suggestions are taken into consideration.
10-Year Housing and Homelessness Plan Commitment:
The 10-Year Housing and Homelessness Plan for Stratford, Perth and St. Marys identified that 98 affordable housing units should be created by 2024. As of April 2017 the total number of units created is 20. This represents about 20% of the 98 unit proposed target.
Analysis: The 55 new units created in phase 1 & 2 would provide much needed affordable housing for low to moderate income families in Stratford. Once the 55 units are completed a total of 75 affordable housing units would have been created in the City of Stratford.This would represent 76% of proposed targets of 98 affordable units be created as outlined in our 10-Year Housing and Homelessness Plan for Stratford and as shown in table below.
The 10-Year Housing and Homelessness Plan for Stratford, Perth and St. Marys - targets

Community

Population

New Affordable Units Created

New RGI and Rent Supplement

Total New Affordable,

RGI & Rent Supplement Created by 2021

Required

Projected to

2021

Required

Projected

2021

Required

Projected to

2021

Percentage

Completed

Stratford

30,885

98

75

26

31

124

106

85%

St.Marys

3,655

12

5

3

12

15

17

113%

North Perth

12,635

40

11

3

51

3

7%

Perth East

12,030

38

10

0

48

0

0%

Perth South

3,995

13

3

2

16

2

11%

West Perth

8,915

28

8

0

35

0

0%

Total

72,115

228

20

61

48

288

128

0

*55 units included to the total for Stratford
Affordable Rents:
In the Provincial Policy Statement, 2014, affordable rental is defined as a unit for which the rent does not exceed 30% of gross annual household income for low and moderate income rental households. The Canada Mortgage and Housing Corporation (CMHC) provides statistics on rental rates which are for buildings that have 3 or more units.
Some of the units will be rented at average market rent, and the remainder will be affordable for low to moderate-income households (80% of average market rent.
Actual rents will be determined closer to end of construction.
Holding Company:
The proposed development would be owned by a separately created City of Stratford municipal non-profit housing corporation, which would allow the City to hold the land and the proposed development. This asset would be owned by the City of Stratford as a sole shareholder and would be managed through the Housing Division.
Timelines:
To utilize the funding provided by the Federal and Provincial government as part of the Investment in Affordable Housing Program and Social Infrastructure Fund the project has to be approved by July 2017 to ensure the public can be consulted and recommendation taken into consideration so that construction can begin in 2018. This project would also position the Corporation to utilize any future funding from the Federal and Provincial government towards the development for Phase 2 of this project.
Financial Impact: The estimated value of the 2.47 acres or one hectare land is $500,000. After 20 years the estimated value of the land and property is projected to be around 4-5 million dollars. The project is self-sustaining with 4% of revenue allocated towards capital replacement reserves from year 1. The estimated annual operating surplus for Phase 1 and Phase 2 is projected to be $20,067 and $9,562 for a total of $29,629 annually. The surplus would be placed in a housing reserve to be used towards the creation of new affordable housing units within the City of Stratford.
Staff Recommendations: THAT the report and business plan to build 55 new affordable housing units at the former Stratford Fairground Lands be received for information;
THAT the proposed plan to construct 55 new affordable housing units be approved in principle, in accordance with Investment in Affordable Housing Program and Social Infrastructure Fund timelines and funding guidelines; AND THAT Staff report back on the components of the Business Plan requiring Council approval, as described in this report.