Stratford Municipal Airport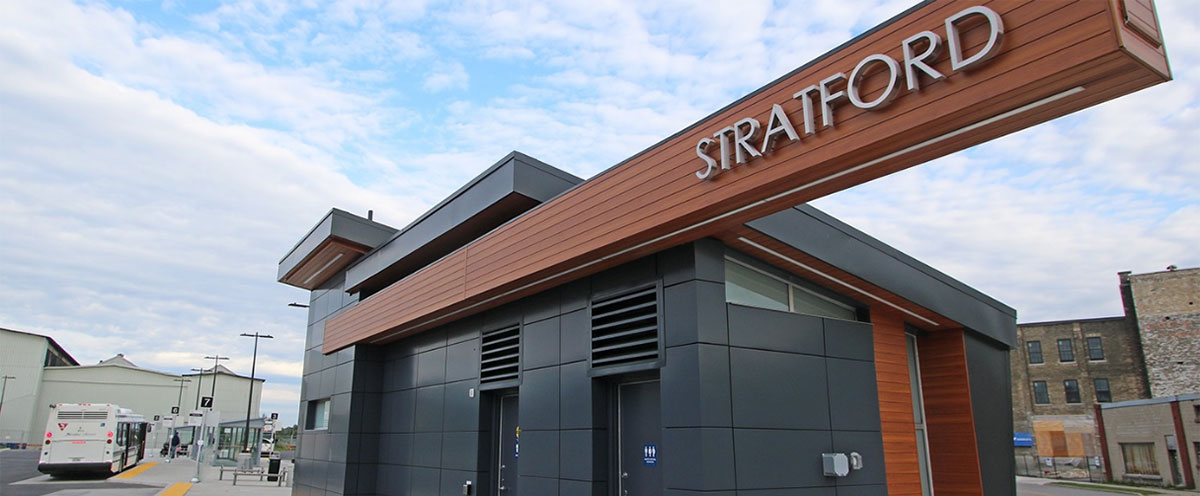 Stratford Municipal Airport
R.R. #1, 3022 Perth Line 40
Stratford, ON N5A 6S2
Tel: (519) 272-0933
Fax: (519) 271-2473
Airport Manager: Andy Woodham
Stratford Municipal Airport
The Stratford Municipal Airport is a mere 6 kilometres north of the City, on 482 acres in the Township of Perth East in Perth County.
The airport was recently expanded to better serve the needs of the business community and visitors. New runways and modern facilities handle air traffic from Dash 8s (DHC-8) to helicopters. A flight school is also available. Corporate, freight, training and recreational flights comprise the approximate 13,000 annual aircraft movements. The airport is home to 44 commercial and private aircraft.
Fast Facts
Stratford Municipal Airport Details

Description

Airport Location

Latitude: 43°24'52" North
Longitude: 80°56'08" West

Runways

05/23 5000' x 100' asphalt
17/35 3000' x 50' asphalt

Navigation Aids

VOR/DME London 117.2

Available Fuel

100LL - Jet A

Aircraft Parking

Overnight and monthly

Canada Border Services Agency Contact Information

Canpass Contact Information

1-800-461-9999
1-888-226-7277
Stratford is well connected with five airports within a 1.5 hour drive, three of which are international airports. Passenger and cargo flights from these airports serve to connect Stratford companies, residents and visitors with the rest of the world.
Toronto Pearson International

Travel Inquiries/Airport Information
Terminal 1 and Terminal 3: 416-247-7678
Toll Free: 1-866-207-1690
TTY: 416-776-3843
TTY Toll Free: 1-866-603-4495
Customer Service: 416-776-9892

Toronto Pearson International Airport Website
Air Canada: 1-888-247-2262 (Canada/USA)

London International

London International Airport Website

Northwest Airlink:1-800-361-5073 (direct flight to Detroit Metro Airport)

Region of Waterloo International Airport

Tel: 1-866-648-2256 or 519-648-2256

Stratford Municipal Airport

R.R.#1, 3022 Perth Line 40
Stratford, ON N5A 6S2
Tel: 519-272-0933
Fax: 519-271-2473

Mount Hope/Hamilton Airport

Tel: 905-679-4151