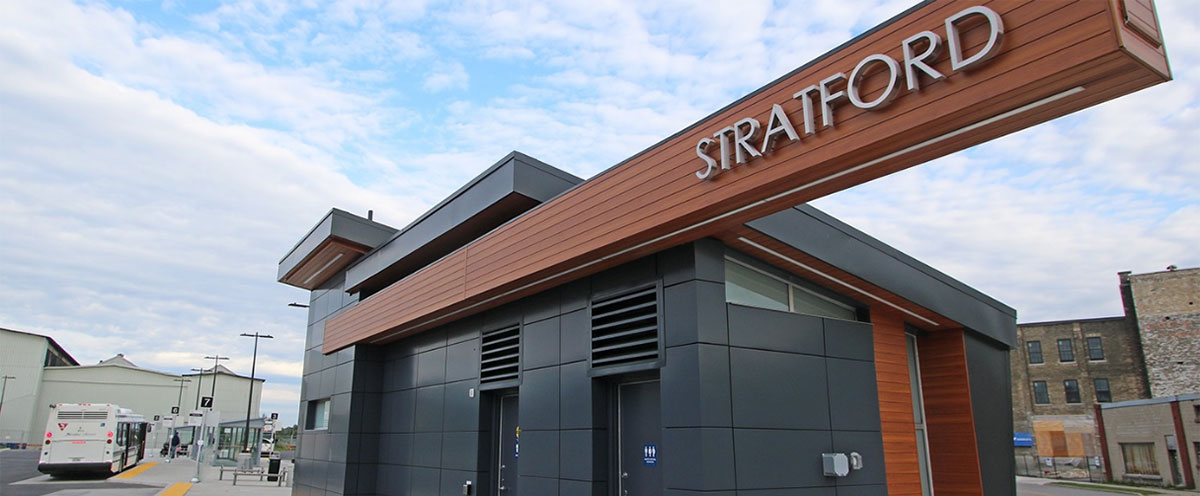 Stratford Municipal Airport
The Stratford Municipal Airport is a mere 6 kilometres north of the City, on 482 acres in the Township of Perth East in Perth County... read more
Parking
The City of Stratford offers over 800 parking spots in the downtown. The majority of the spaces are 3 hours meters, however, the meters around the outside of the downtown core are 12 hour meters.... read more
Rail
VIA Rail offers passenger rail service and can help you plan your trip easily and efficiently.... read more
Roads
Regional and provincial highways connect Stratford to other major cities.... read more
Transit
City of Stratford Transit and Parallel Transit provide an affordable and convenient alternative to driving within the City on regularly scheduled transit routes. Read further to learn about our rates, schedules, Parallel Transit, and special services.... read more
Parallel Transit
Parallel Transit has been serving Stratford residents for over 30 years, providing a shared ride service for persons with disabilities, and who are unable to access Stratford Transit. With well trained and caring drivers, Parallel Transit will provide a safe and comfortable ride, serving door-to-door as you please.... read more
Stratford Taxi Services
| | | |
| --- | --- | --- |
| Radio Cab | 519-271-4242 | |
| Stratford City Cab | 519-272-2222 | |
Transportation Master Plan
The City of Stratford is updating its Transportation Master Plan (TMP). A TMP is a long-range planning document that will guide changes to the City's transportation system, for all modes of travel, over the coming decades. The TMP also identifies transportation policies and strategies that, when combined with recommended infrastructure projects, will help the City achieve its vision for the future.
Information about the project, as well as how to provide feedback, is outlined in our TMP Notice of Commencement and Public Consultation.
The Virtual Open House will be hosted on the Engage Stratford webpage from April 14 to May 5, 2022.