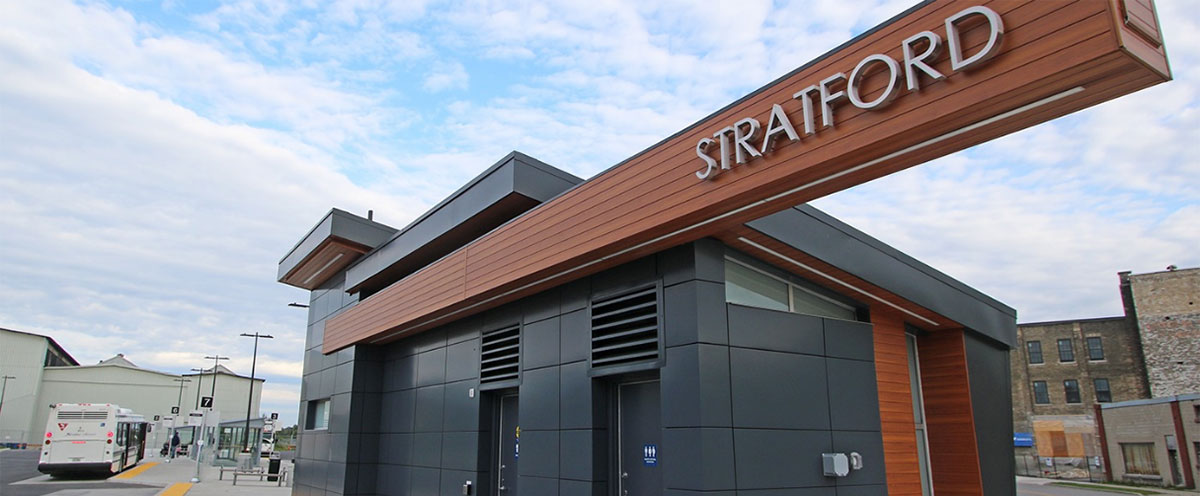 The Engineering Division is responsible for design and supervision of construction or reconstruction of roads, sidewalks, sewers, and watermains, including survey, locates, and inspection activities for work done within our municipal rights of way.
Our staff covers the areas of Engineering, Development Review, Project Management, Traffic, AutoCAD, Inspection and Administration. Staff work with owners, residents, contractors, consultants and others to manage and improve the infrastructure we use every day.
We manage the contract with the Ontario Clean Water Agency (OCWA) to operate and maintain the City of Stratford Water Pollution Control Plant for our sewer system. Our goal is that treated wastewater does not harm the environment when it leaves the plant.
We supervise the contract with the Stratford-Perth Humane Society for Animal Control services.
For information on our current construction projects, please visit the Engage Stratford website.
Infrastructure, Transportation and Safety Sub-committee Updates
May 2023 Updates - coming soon
Engineering for Development
Engineering reviews Subdivision Designs, Site Plans, and other Development related applications to ensure roads, sidewalks, sewers, and watermains are constructed according to City and Provincial standards. We conduct inspections to ensure subdivision sewers, watermains, roads, and sidewalks are constructed following the standards.
Reports
2022 Pavement Condition Evaluation Report
Court and McNamara Drain Floodplain Study (2007):
Report, Exhibit 1, Exhibit 2, Exhibit 3, Exhibit 4
Roadhouse Drain Master Drainage Plan (2007):
City of Stratford Bike and Pedestrian Master Plan
Please see the City's Bike and Pedestrian webpage for the Master Plan and other related information.
Transportation Master Plan
The City of Stratford is updating its Transportation Master Plan (TMP). A TMP is a long-range planning document that will guide changes to the City's transportation system, for all modes of travel, over the coming decades. The TMP also identifies transportation policies and strategies that, when combined with recommended infrastructure projects, will help the City achieve its vision for the future.
Information about the project, as well as how to provide feedback, is outlined in our TMP Notice of Commencement and Public Consultation.
The Virtual Open House will be hosted on the Engage Stratford webpage from April 14 to May 5, 2022.


Sanitary Master Plan
Sanitary Master Plan 2023
Wightman Fibre to Home Project 2018-2021
Please see the Wightman Fibre to Home Project 2018-2021 for additional information on this project in the City.
Queen Street Major Storm Trunk Sewer Project 2021
Queen Street Major Storm Trunk Sewer Project
The City has identified the need to construct a storm diversion trunk sewer along Queen Street. The project was identified in the 2004 South Side Storm System Class Environmental Assessment study and as amended in 2017. The Class E.A. Addendum was carried out in accordance with the Municipal Class Assessment planning process.
A project update is available as of September 16, 2021. A project update presentation, frequently asked questions and a project map are available below. If you have any questions, please send us an email.
Argyle Street and McKenzie Street Reconstruction
The City of Stratford is planning to reconstruct Argyle and McKenzie streets from St. David Street to Cambria Street this year, in order to improve water, sewer and road infrastructure. For updates on this project, please visit the Engage Stratford website.
The specific improvements scheduled for this street are:
Upgrading the existing storm sewer, sanitary sewer and water mains.
Replacing existing sanitary and water services to the property line.
Installing curb and gutter, and one sidewalk on east side of Argyle Street and on the west side of McKenzie Street.
Widening Argyle Street roadway from 6.2 metres to 7 metres. McKenzie Street road width meets the current residential standard of 8.5 metres, therefore there is no planned widening or reduction during construction.
Huron Street Reconstruction Phase 1, 2021
The City of Stratford has identified the need to reconstruct Huron Street from John Street to the Huron Street bridge. The proposed design includes new watermains, storm and sanitary sewers, road reconstruction, signalized intersection upgrades and lane reconfiguration from 4-lane to a 3-lane road. The 3-lane undivided road configuration consists of two through lanes and a centre turning lane. For updates on this project, please visit the Engage Stratford website.
An online public information centre has been arranged to allow members of the public an opportunity to review the design Huron Street Reconstruction project information. Online display boards, a project presentation, and additional information are available below. Please submit any questions or comments by October 15, 2021.
Street Lights
With more than 4,300 street lights to maintain, we appreciate your help in identifying street lights that are not working properly. If you notice street lights that are always on, always off, cycling or in need of repair, please contact us at 519-271-0250 ext. 222 or send us an email. Be sure to include the following information:
Your name
Phone number
Location of the street light issue
Nearest cross street to the address
Nature of the problem - e.g. the number of lights out, fixture is broken or hanging, lights are flickering, lights are on during the day etc.
Once we have the information from you we can arrange for the City's contractor, Festival Hydro, to investigate and make the necessary repairs.