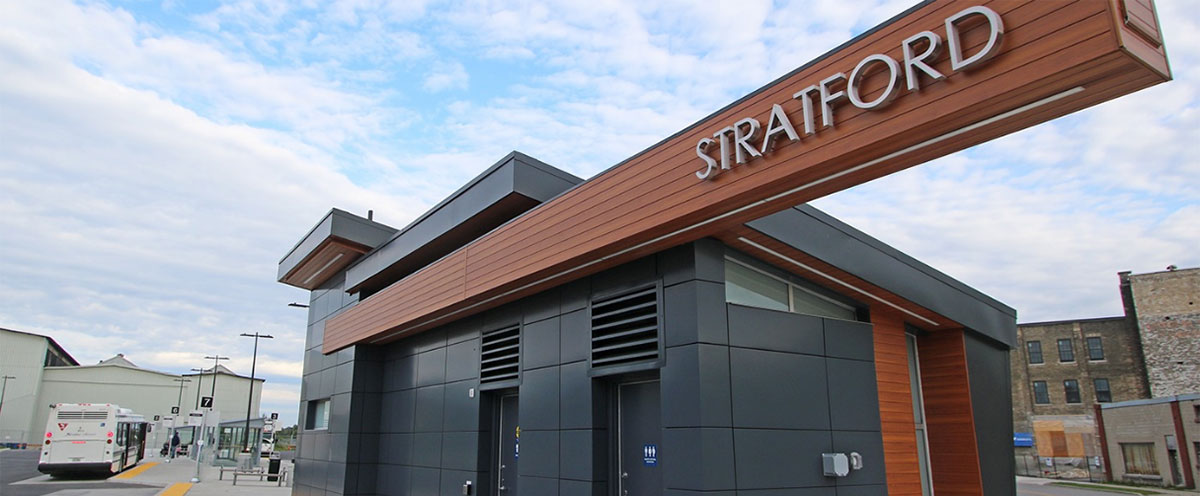 Winter is here, and the City of Stratford has a winter maintenance strategy in place that focuses on safety and mobility for both motorists and pedestrians.
Here are some of the tools used by the Public Works division to help carry out that strategy on the rougly 200 kilometres of roads and sidewalks in Stratford:
4 combination plow/sander units (2 side discharge, 1 dual spinner)
2 articulated loaders with plow and wing attachment
2 articulated loader with one-way blade
1 Kubota tractor with blade and box scraper – this will be used for City parking lots and multi-use pathways.
6 articulated sidewalk machines – able to plow and treat the sidewalk at the same time, with blower attachments used during heavier winter events
2 road sanders, for the core area and City parking lots, and to treat roadways behind the loaders and grader
Snow blower attachment for front end loader, used to cut back snowbanks on city streets
4 standby loaders and graders if needed
Contractor dump trucks on stand-by, for hauling snow from core area, City parking lots
Rental snow blower for loading trucks in the core
Shovels, which City employees use to hand shovel and salt all corners in the core area
Walk-behind snow blower for heavy events
---
The Public Works division takes a proactive approach to winter maintenance:
weather information is tracked and recorded several times a day
road inspections are conducted every four hours through the winter months
anti-icing measures may be applied in anticipation of a winter event, with a sodium chloride mix used to prevent the accumulation of snow and ice on City streets
Sand and salt are also used to treat streets and sidewalks, with the sand/salt ratio adjusted depending on air and road temperatures.
Following a winter event (snowfall), the Public Works division focuses on Stratford's most heavily used streets first, and pays particular attention to clearing roads and sidewalks in hospital and school areas and bus routes.
Please remember:
there is No Overnight Parking on City streets or shoulders from 2 a.m. to 6 a.m.
during a snow event, when daytime plowing is needed, avoid leaving vehicles parked on the street
avoid shoveling or blowing snow from driveways into city streets and sidewalks, as this creates a hazard for motorists and pedestrians.
This map of our snow plow routes gives an overview of the priority given to each of the streets in Stratford during a winter event.
---
FAQs
Here are a few frequently asked questions about Stratford's winter maintenance program:
How long does it take to clear all the roads in Stratford?
It depends on how much snow is falling. If snow starts and stops, then a typical rotation through the City takes between 18 and 24 hours to plow all 180 kilometres of roadway. If snow continues, then the primary roads will be plowed again prior to the residential streets. During some winter events, plowing continues for several days using City and contract equipment.
Why does my neighbour's street get plowed before mine every time?
There are several classifications of roads in the City based on the amount of traffic on them and the speed of the traffic. Other factors including bus routes, school, and hospital areas dictate road classification. Plow operators are given beats that show them what to plow first and what to plow after that. If you live on a cul-de-sac with a low volume of slow traffic, your street will be plowed, but not before the larger streets with higher volumes of traffic using them.
Why do the plows go by 2 or 3 times during some winter snows?
When there is significant snow or drifting snow, the large plows will clear snow from local roadways and highways. Although this operation removes the snow quickly from the travelled portion of the road, a follow up plowing occurs in order to push snow back as far as possible to provide storage space for the next snowfall. This is best accomplished with a second push at the snow bank. A second reason for the follow up plowing is to attempt to expose catch basins which are essential for allowing melting snow and potential rainfall to drain off the street.
Why do you plow in my driveway?
In order to clear snow from the roadway, property frontages and driveways will receive a "grader ridge" as plows pass by. If City crews attempted to clear entrances during roadway plowing operations, the process would become very time consuming and very expensive.
You plowed around my car and I couldn't move it after you went by. Will you come and dig it out?
Cars parked on the roadway in the winter can stop plows and sanders from being able to go down your street. If the plow can go around, it will, and it will leave a ridge around the car. We are unable to dig out these cars and ask that everyone make every effort to keep cars off roadways and cul-de-sac islands in the winter.
The sidewalk plow ripped up my lawn. What can I do?
If you see that a road plow or a sidewalk plow has damaged your lawn you can call Public Works at 519-271-0250 ext. 259 and give your name and address. In order to ensure that all repairs are completed in a timely manner, the deadline for reporting sod damage is June 1. The damage will be noted and your address kept for repair in the spring. To assist in unnecessary repairs, ensure that the sod is not lawn overgrowth on the sidewalk, and is in fact repairable.