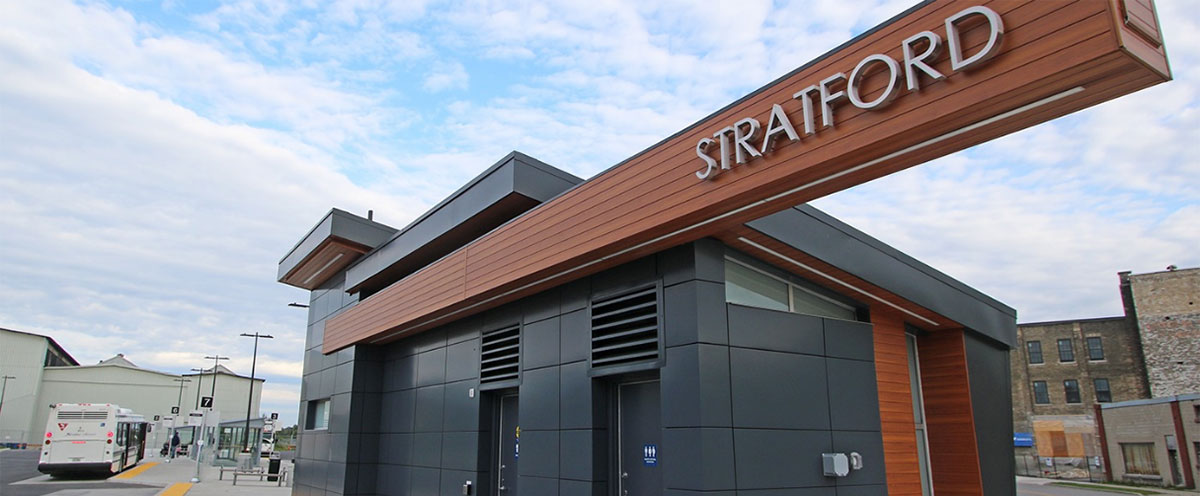 The Water Division provides clean and safe drinking water to all the residents and businesses within the City of Stratford. The city's water system is groundwater based and is comprised of 11 wells, 6 treated entry points, 1 reservoir and 2 elevated storage tanks which provide an abundant supply of treated water year round. Our Drinking Water Quality Management System is in place to keep our water safe. The water samples from around the city that we have tested consistently confirm our water quality exceeds provincial standards.
Our Commitment
The Drinking Water Quality Management System Policy outlines our commitment:
To provide safe drinking water
To improve and maintain the water distribution quality management system
To comply with all applicable legislation and regulations
We have submitted a financial plan for the water distribution system to the Ministry of Municipal Affairs and Housing to fulfill the additional requirements of the Safe Drinking Water Act's municipal drinking water licensing program. Our Operational Plan is available for viewing at the Infrastructure and Development Services Department at 82 Erie Street, 3rd Floor.
Water Service Ownership
Every residential and commercial property in the city that is serviced by the water distribution system will have their own individual water service suppling water to the property. For more information, visit our Water Service Ownership page.
Hydration Station
In an effort to further promote municipal drinking water, and to cut down on single-use plastic water bottles, the City of Stratford has a mobile water station available for local community events, at no cost.
The Hydration Station is a portable unit that can be used at outdoor functions in Stratford where there are no water fountains. It is simply hooked up to a municipal water connection, and fresh, clean water is made available through drinking fountains and water bottle fill taps on the front.
The requirements for use of the Hydration Station:
The event must take place in Stratford, within City limits
Minimum event attendance of 100 people
The event must be open to the public
The event must be at least four hours in length
Hydration Station must be placed in a prominent location, approved by City staff
A suitable water connection must be available
The unit will be available from May 1 until the Thanksgiving weekend
The Hydration Station is booked on a first-come, first-serve basis by contacting the City of Stratford Water Division. With the exception of sporting events, outdoor events taking place on municipal property will request the unit through the Special Event Application.
Drinking Water Source Protection
Source water is the raw, untreated water that we take from lakes, rivers and underground aquifers to supply people with drinking water. "Drinking Water Source Protection" or "Source Water Protection" means protecting these sources of drinking water from contamination and overuse.
For more information, visit our Drinking Water Source Protection page.
Driveway Replacement Planning - Locating Water Boxes
If a property owner is planning to have a driveway installed or replaced, we ask that they book an appointment with water services division so that the water curb box can be located before work on the driveway begins.
It is important to have these boxes located and checked for operation before driveway work is scheduled to ensure they are visible and working properly. Failure to do so may result in a new driveway being compromised if the curb box needs to be repaired or replaced at a later date.
For more information, visit our Locating Water Boxes page.
Frozen Water Services
In the past, the City of Stratford has experienced deeper than normal frost levels. As frost reaches deeper depths, this can result in an increase in the freezing of water services.
For more information, visit our Frozen Water Services page.
Discoloured Water
Occasionally, the water coming from the taps in your home may appear yellowish or rusty coloured.
See our Frequently Asked Questions about Discoloured Water for typical causes of discoloured water, tips for clearing discoloured water, and how to contact the Water Division.
Annual Reports
We prepare annual reports on our drinking water system to meet the requirements of the Safe Drinking Water Act. These reports provide information on the operation of the municipal drinking water distribution system, the quality of the water, and the MOE inspection report.
Water and Sewer Rates
New water and sewer rates are approved by City Council annually. Festival Hydro is contracted by the municipality to read water meters and to issue billings for water and sewer use.
After Hours Water Emergencies
If you wish to report a problem during regular business hours, such as a concern about a leaking water meter, a taste or odour concern, a possible water main break, no water coming from your taps, or any other water related issue, please call us at 519-271-0250, extension 222.
If you require immediate assistance, and are calling after regular business hours, such as in the evening or on the weekend, please call 519-271-4700.