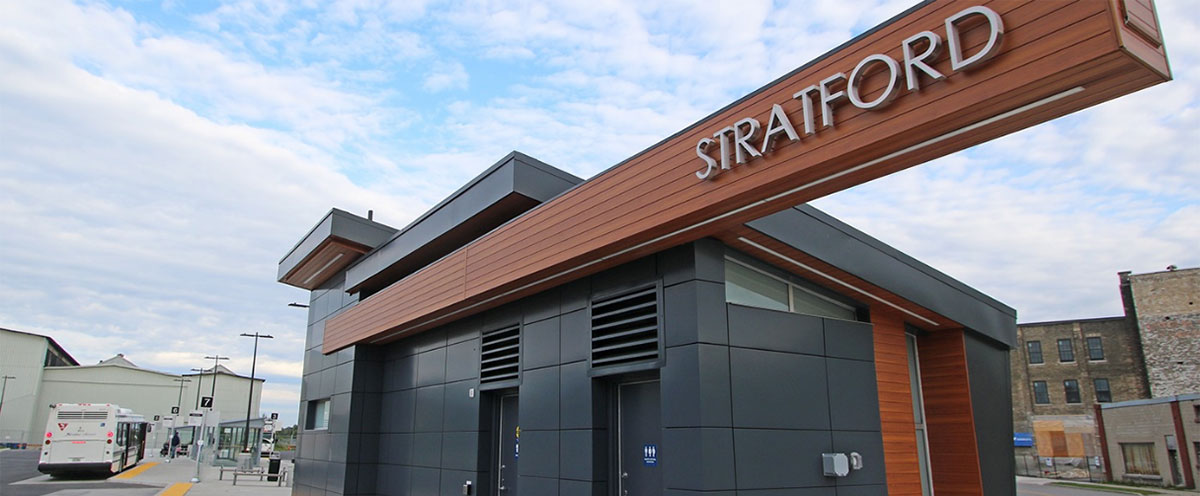 Stratford's Main Park System contains approximately 115 acres of formal parklands and nearly 60 acres of natural area. The formal parkland is bounded immediately to the south by major access routes and a vibrant downtown area, and to the north by exquisite residential properties. Two of the city's three theatres - the Shakespearean Theatre and Tom Patterson Theatre are located within the formal park system, with the Avon Theatre located in the downtown area. The park system itself is virtually bisected by Lake Victoria and the Avon River system.
View a map of our playgrounds and parks
Park Attractions & Features
Upper Queen's Park, overlooking Lake Victoria, is approximately 6 acres in size and has many amenities including playground equipment, washrooms, a bandshell and both informal and formal picnic areas. Our formal picnic area can be reserved for family reunions, corporate picnics, and other celebrations. Groups of 25 up to 200 can be accommodated. A covered pavilion is also available in the event of inclement weather. To reserve please email Teresa Munro
Sitting benches and picnic tables scattered through the system for dining or just plain relaxing.
Two bandshells provide a backdrop for many summer concerts.
Over 15 kilometres of trails accommodating walking, jogging and cycling activities.
Lake Victoria (Avon River), stretching for nearly 2 kilometres, affords one the opportunity to canoe, paddle boat or take a guided tour on the "Juliet."
The shore at Lake Victoria is the perfect place to grab a lawn chair on a hot summer evenings and enjoy the sounds of live jazz on the H.M.S. Razz Ma Jazz, as it floats up and down the lake.
A variety of sports activities can be enjoyed, whether passively or actively, including baseball and soccer.
Rental Fees
Pavilion - $40/hour plus HST or $200/day plus HST (six hours or more) Charitable Event Rate - $100/day plus HST
Permanent Picnic Tables - $85 plus HST (flat rate for up to four hours) or $125 plus HST for over four hours (day rate)
Bandshell (Upper Queens & Veteran's Drive) - $25/hour plus HST or $100/day plus HST for multi-day events Non-profit/Fundraising Rate - $12.50/hour plus HST
---
Art in the Park
A regular and popular feature along Lake Victoria, Art in the Park takes place during the summer months and affords one the opportunity to leisurely walk and browse among a variety of artists as they ply their wares.
---
City Trees
If you have questions or concerns about city trees on your property please email us. For emergencies (fallen trees etc) please call 519-271-0250 x 244.