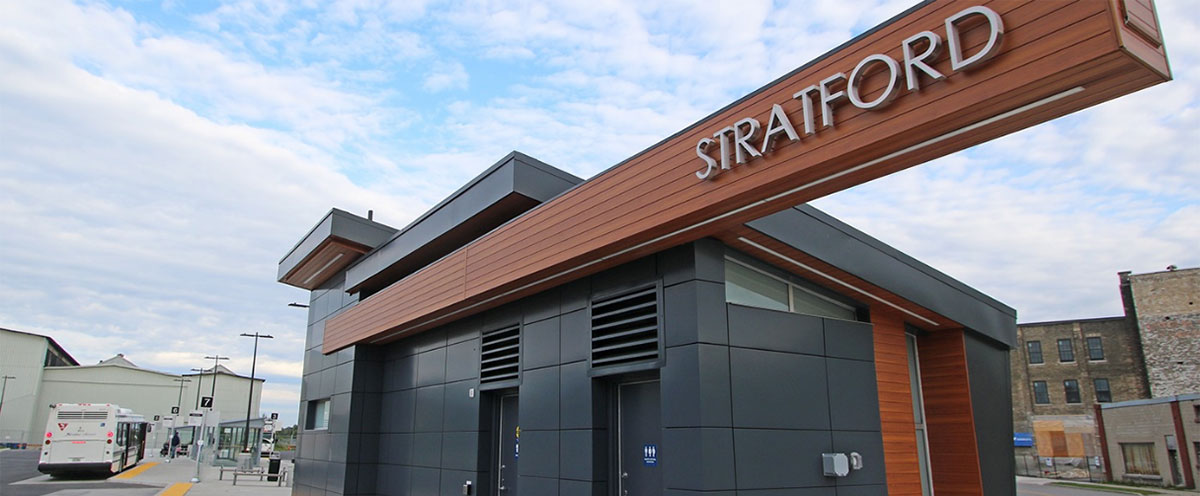 The City of Stratford owns and operates the Stratford Lions Pool from June until end of August each season. Our highly qualified Instructor/Guard staff provide a full range of swimming lessons and public swim programming, in a supervised and safe environment.
Address: 15 William Street
Direct Phone: 519-271-0757 (summer only)
Facility Functions: lessons, open swims, private rentals, change facilities, washrooms, accessible
General Hours of Operation: July to August, Monday to Friday, 7am - 8pm, Saturday and Sunday, 12 - 8pm
Check our closures and cancellations page for up-to-date information
News Items
June 10, 2022 - Lions Pool to open this Weekend!
The Stratford Lions Pool is set to open its doors for its 90th season today. Pre-season afternoon and evening swims will run June 10-27th, with lengths swimming on weekdays from 4:30-5:30pm, and public swimming daily from 6:00-8:00pm and weekends 2:00-4:00pm. Regular season hours start June 28th.
Annually, over half a million Canadians participate in swimming, lifesaving, lifeguard and leadership training programs. As learning to swim is a fundamental life skill to help prevent drowning, the Lions Pool offers swimming lessons for people of all ages and abilities. Classes start at $84.00 per two-week session, and are taught by certified Lifeguards and Instructors. Lifesaving swimming courses such as Bronze Medallion and Bronze Cross offer opportunities to learn firsthand how lifeguards and instructors deal with aquatic emergencies.
On July 1st, the pool will host its annual Canada Day free swim from 2:00-4:00pm. Many fun activities are planned including face painting, water games, a colouring contest, and door prizes. Light refreshments will be available for purchase. As lineups build quickly, come early to beat the heat and crowd.
Season passes make a fantastic end-of-school gift for children and families. Passes start as low as $90.00, with the family pass at $280.00 for the season, and can be purchased at the pool.
April 1, 2022 - Summer Day Camp and Swim Lesson registration opens April 1
As of noon on April 1, registration will open for Summer Day Camps and Swim Lessons. A digital version of our Recreation Activity Guide will soon follow.
---
Become a Lifeguard or Instructor
Certification Path
Ever wondered how to become a Lifeguard/Instructor?
Find out more on the path to become a certified Lifeguard or Instructor.
Employment Opportunities
Our highly qualified Stratford Lions Pool Lifeguard and Instructor staff provide a full range of swimming lessons and public swim programming, in a supervised and safe environment.
Seasonally, we employ over 30 staff to operate the pool, in the following positions:
Pool Supervisor
Assistant Supervisor
Lifeguard/Instructor
Lifeguard-in-Training
---
What would you like to do?
---
Important Swim Admission Policies and Procedures
We have a few important swim policies and procedures you should know before arriving at the pool.
Cancelled Swims/Foul Pool/Poor Weather (new 2021)
The Pool will remain open on rainy days, unless: thunder and/or lightning is evident; or, the downpour is so heavy, that the black dot on the bottom of the pool is not visible. If either of the above two points are present, the pool must be closed immediately. It may re-open after a ten-minute interval void of these two conditions, or upon the discretion of the Supervisor on duty.



In the event of the pool being fouled, the pool will be cleared immediately. The required maintenance for fouled pools will be completed.
If a reserved swim is cancelled due to inclement weather within 20 minutes of the reservation start time, an account credit or refund for the admission price will be offered.
If a reserved swim is cancelled due to inclement weather after 20 minutes of use from the start time, no refunds will be given
If a public swim is cancelled due to a fouled pool, an account credit for the admission paid may be issued at the Supervisor's discretion.
If swim lessons are cancelled due to inclement weather, or a fouled pool, dry land lessons will be offered.
Family Swim Policy
Anyone under the age of 18 years wishing to swim during a Family Swim time must be accompanied by a parent/guardian. Swim admittance policies apply.
Pool Closure Policy
In the event that no swimmers arrive within the first half-hour of the evening open swim, the pool will be closed until the next scheduled swim time.
Swim Admittance Policy
Children under the age of 8 can participate in public swims if they meet one of the two following conditions:
They are supervised by a responsible person 12 years of age or older. The responsible person must be in the water and remain within arms reach of their child. This responsible person may not supervise more than 2 swimmers at any time.
The child can pass the Swimming Competency Test. The competency test is for children under the age of 8 who wish to swim without direct supervision.
Should you be short in having a responsible person to help supervise more than 2 children, consider inviting a friend to help assist, or have your children take turns in and out of the pool.

Patron admittance reviews and final decisions are at the sole discretion of the Supervisor on Duty.
Supporting and Celebrating Persons with Disabilities
We support with pride all persons of varying abilities. Should a patron having an exceptional ability wishes to attend a swim and requires a support person (whether the support is required on deck or in the water), we are pleased to admit the support person free of charge.
Swimming Competency Test Policy
The swimming competency test is for children under the age of 8 who wish to swim without direct supervision, The following requirements must be passed to the Instructor/Guard's standards:
Two widths of the Lions Pool where the child can touch.
Recognizable front crawl with face in.
Treading water for 20 seconds in the middle of each width.
A general comfort with the water.
The swimming competency test can also be administered to swimmers wishing to enter the deep end of the pool who are older than 8 years of age. All Instructor/Guards are able to administer the test. The swimming competency test is the only test available to evaluate a patron's strength, endurance and level of comfort in the water. Children who pass the test may have access to the entire pool.
The Instructor/Guard's have the authority to send the child back to the shallow end for their safety, if he/she becomes weak/tired. Only one test per participant, per day will be administered.