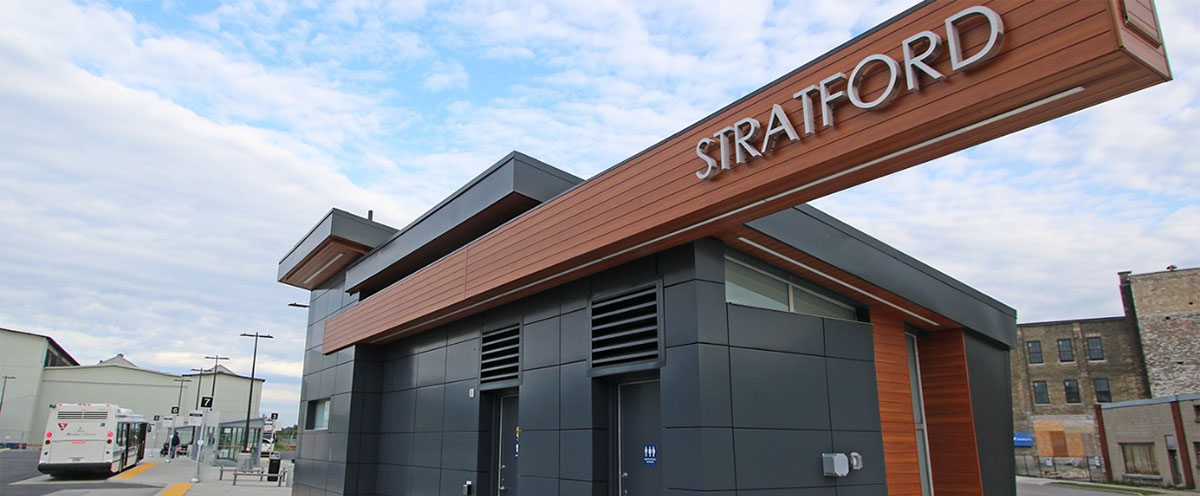 We operate all of the City's facilities and venues, including arenas, pools, playing fields and more. Over the years, we have proudly invested in high-quality facilities, which have in turn supported numerous local, provincial, national and international events and sport championships. We recognize the value in welcoming and hosting events small or large, as we know it all contributes to Stratford's reputation for offering a high standard of living, and exceptional quality of life.
Most facilities require advanced registration prior to use.
Our Recreation and Facility Services staff are eager to assist and serve your needs.
May 21, 2021 - Re-opening of outdoor facilities
The Ontario government's Roadmap to Reopen, released on May 20th, outlines a three-step approach to a safe and gradual reopening of the province. Each reopening phase will progressively ease public health measures, with specific restrictions in place. As of 12:01 am on May 22nd, the following list of outdoor recreation facilities and amenities will open for casual use only (not for team sports, training or league play), where gathering limits of up to 5 people physically distanced must be maintained.
All wheels park
Ball diamonds
Beach volleyball courts (scheduled to re-open mid-June)
Golf
Parks and playgrounds
Soccer fields
Splash pad at Anne Hathaway Park
Tennis/pickleball courts
At this time, and until the Ontario government's reopening steps are activated, the following recreation facilities and amenities remain closed:
All indoor recreational facilities, including walking track and ice surfaces
For greater clarification, the Stratford Agriplex remains closed except for the Farmer's Market on Saturdays
Stratford Loins Pool
The government expects to enter Step One of the Roadmap to Reopening the week of June 14, 2021. Until Step 1 is initiated, the rules and public health measures under the provincewide emergency brake must be followed.
Facility Closures and Program Cancellations

| Date | Facility | Program | Closure/Cancellation Time |
| --- | --- | --- | --- |
| September 7, 2020 | Lions Pool | Aquatics | Closed. Re-opening mid June |
| April 3, 2021 - to be determined | All indoor city facilities | Exceptions are the Saturday's Farmer's Market at the Stratford Agriplex, which remains open 7am - 12pm, and COVID-19 Assessment and Vaccination Clinics at the Rotary Complex. | Closed due to provincial-wide Shutdown |
| May 22, 2021 - to be determined | Outdoor sportsfields | All sportsfields are open for casual play (not for team sports, training or league play) where gathering limits of up to 5 people physically distanced must be maintained. | Open with health measure restrictions |
City of Stratford offices are closed on the following Statutory Holidays:
City of Stratford Holiday Office Closures - 2020
Wednesday, January 1 – New Years
Monday, February 17 – Family Day
Friday, April 10 – Good Friday
Monday, April 13 – Easter Monday
Monday, May 18 – Victoria Day
Wednesday, July 1 – Canada Day
Monday, August 3 – Civic Holiday
Monday, September 7 – Labour Day
Monday, October 12 – Thanksgiving
Wednesday, November 11 – Remembrance Day
Thursday, December 24 – Closed at noon
Friday, December 25 – Christmas Day
Monday, December 28 – In lieu of Boxing Day
Thursday, December 31 – Closed at noon
City of Stratford Holiday Office Closures - 2021
Friday, January 1 - New Years
Monday, February 15 - Family Day
Friday, April 2 - Good Friday
Monday, April 5 - Easter Monday
Monday, May 24 - Victoria Day
Thursday, July 1 - Canada Day
Monday, August 2 - Civic Holiday
Monday, September 6 - Labour Day
Monday, October 11 - Thanksgiving
Thursday, November 11 - Remembrance Day
Friday, December 24 - Closed at noon
Monday, December 27 - Christmas day in lieu
Tuesday, December 28 - Boxing day in lieu
Friday, December 31 - Closed at noon