Posted on Wednesday, July 22, 2020 09:48 AM
Starting this Friday, July 24, and continuing through to the end of August, the Lions Pool will host free swimming during family swim programs at 2:15 p.m. and 6 p.m. An anonymous organization will sponsor the swims, supporting children and families to enjoy the water at no cost.
Admittance to the family swims are on a first-come, first-serve basis with a maximum of 40 individuals in the pool at any one time.
The City of Stratford takes the health and safety of Lions Pool patrons and staff seriously....
Posted on Thursday, July 09, 2020 04:30 PM
STRATFORD - The Stratford Lions Pool opened for the summer season on Friday, July 10. To meet current government regulations to stop the transmission and spread of germs (including COVID-19), a new summer swim program is being offered.
The swim schedule includes reservable lengths, private swim AquaPods for a maximum of 5 persons within the same social bubble, water fitness classes, and limited capacity open family swims.
The health and safety of patrons and staff is of utmost importance. Those...
Posted on Tuesday, July 07, 2020 11:12 AM
July 7, 2020 - Effective immediately, all open air fires that require a burn permit, as defined in By-law 5-2006, are prohibited anywhere in the City of Stratford. This does not include backyard recreational fire pits.
This fire ban is being imposed due to the extreme dryness of all vegetation in the City of Stratford and surrounding areas. Provincial forest and wild-land fire indicators are all at extreme levels. This ban will remain in effect until further notice.
Farmers operating within the city...
Posted on Wednesday, July 01, 2020 08:56 AM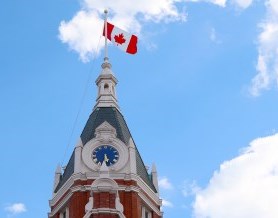 Canada Day Messages
On the occasion of Canada's 153rd birthday, here are video greetings and Canada Day messages from The Honourable Elizabeth Dowdeswell, Lieutenant Governor of Ontario, as well as Perth-Wellington MP John Nater, MPP Randy Pettapiece and Stratford Mayor Dan Mathieson.
The Honourable Elizabeth Dowdeswell, Lieutenant Governor of Ontario
Canada Day Message for Stratford
Posted on Monday, April 06, 2020 04:36 PM
Stratford – For many people, the COVID-19 pandemic has created feelings of stress, anxiety, uncertainty and fear, and the City of Stratford would like to highlight some of the mental health supports available to our community.
The City of Stratford Social Services Department works in partnership with Family Services Perth-Huron to make a variety of counselling services available to its clients, including support for mental health and wellness. Information about those services is available at http://familyservicesperth-huron.ca/
For...