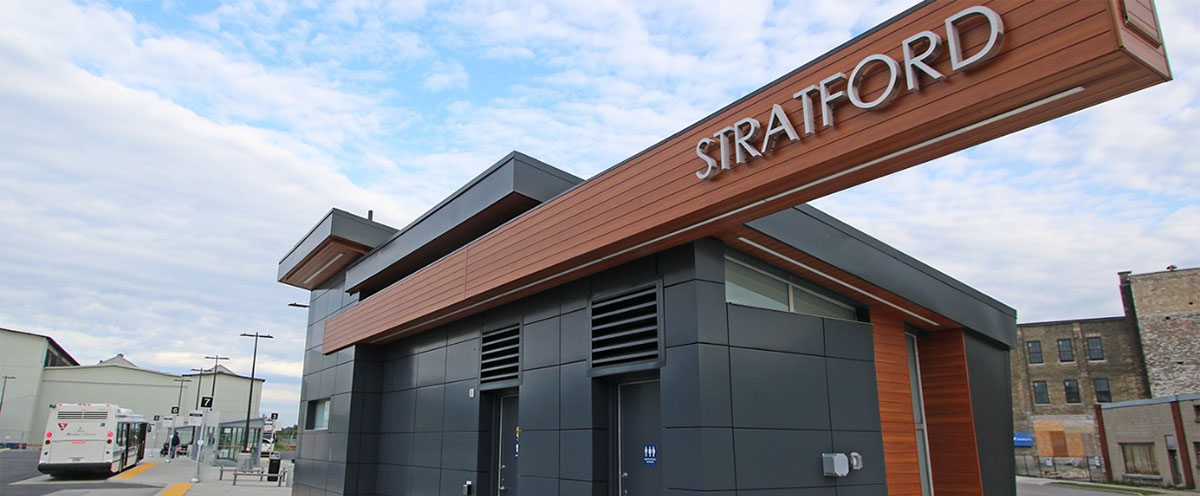 The City of Stratford offers curbside collection for garbage. Trucks begin collecting at 8 a.m. on your scheduled garbage day so please have all items to the curb by then.
Information on garbage and recycle collection schedules, recyclable items and convenient in-app reminders are available through the Recycle Coach App.
Printed or electronic copies of the current Garbage and Recycle Collection Schedule and Map are available upon request.

Downtown Core
If you are located in the white section of the Garbage and Recycling Schedule and Map, garbage day is every Tuesday and Friday at 6:00 a.m, green bin is every Friday at 6:00 a.m., and recycling is every Wednesday at 6:00 a.m.
Curb Side Pay as You Waste Program
Pay as you waste, what is it, who is affected?
If you place garbage out for collection in Stratford you will be paying direct for the cost of collecting and disposing of that garbage at the landfill site. The pay as you waste system treats garbage like a utility where decreased usage means decreased costs. All garbage placed out for collection needs to be tagged for collection.
How do I tag my garbage?
Garbage can be placed out in three ways:
In bags
In garbage cans
In tied bundles
Remember to:
Wrap the tag around the neck of a bag or the handle of a can. Tags will be thrown out with the bag or torn off the handle of a can each time it is set out.
Stick the tag to itself; do not stick it flat on the surface of the bag.
The tag is not a twist tie, so do not try to tie your bag with it.
If the lid cannot be placed on the garbage can it is too full to be picked up.
Please do not use blue bags for waste.


Tag Prices Effective January 1, 2023
Type of Garbage Set Out / Container

Capacity and Size Regulations

Cost (number of tags needed)

Plastic Bag

Up to 30 x 38 in. or 76 x 96 cm. 85 Litres Maximum 22kg/50lbs

$3.75 (1 tag)

Plastic Bag (Grocery Bag)

Standard plastic grocery store bag with two handles

(1/2 tag cut lengthwise)

Rigid Container

Up to 128 Litres Maximum 22kg/50lbs

$3.75 (1 tag)

Rigid Container

129 to 240 Litres "Carts Ahoy"

$7.50 (2 tags)

Rigid Container

241 to 360 Litres "Carts Ahoy"

$11.25 (3 tags)

Bundle (must be tied)

22 kg or 50 lbs. 100 x 50 x 50 Centimetres or 39 x 20 x 20 inches

$3.75 (1 tag)

Landfill Drop Off

Bag or Can (maximum of 5 bags or cans per vehicle)

$4.80 per bag or can

Landfill Drop Off

Loose loads of garbage (or more than 5 bags or cans)

$87.25 per tonne

$20.00 min. fee
Where do I buy tags?
City Hall 1 Wellington St.
7-Eleven 327 Erie St.
Blowes Stationery 34 Wellington St.
Canadian Tire Gas Bar 1101 Ontario St.
Daisy Mart 555 Downie St.
East End Variety 231 Douro St.
Esso 501 Ontario St.
Giant Tiger 477 Huron St.
Hallmark/Blowes 1067 Ontario St. (Festival Marketplace Shopping Mall)
Joe's Variety 760 Ontario St.
Mobil 180 Erie St.
Mornington Variety 231 Mornington St.
Shell Station 405 Huron St.
Sobey's 581 Huron St.
Stratford Mini Mart / GoCo 666 Ontario St.
Stratford Variety 542 Downie St.
Video 99 and Convenience 332 Erie St.
Zehrs 865 Ontario St.
How do I dispose of large items?
White Goods
The City of Stratford currently collects large appliances or white goods on a monthly collection. Residents pay $44.00 for an appliance that contains or may have contained freon and $25.00 for one that does not contain freon. The item is collected, emptied of freon if necessary, and recycled or repaired. This program will continue as part of the Pay as You Waste System. These items are not accepted at the landfill site. White Good Stickers are available for sale at the City Hall.
The schedule is the 3rd Monday of each month unless it falls on a holiday then it will be the Tuesday.

Large Items
A large item is any item larger or heavier than a bundle described in the chart above (a chesterfield or desk for example). Large items will need to be tagged for pick up and will be collected on your regular garbage day. If you are disposing of such items, a tag can be purchased at the Infrastructure & Development Services Department, 82 Erie Street, 3rd Floor as well as City Hall, Main Floor. Large item tags cost $13.85. Large items are also accepted at the landfill site at $87.25 per tonne.
View our Garbage and Recycling app below